Printer's Row Book Fair
I went to the annual Printer's Row Book Fair. It was nice. It would have been nice to go with someone, or to stay longer, but it's finals week.
Mischief Avoided
I didn't go to the Drake Hotel after all.
Music
I saw Maurizio Pollini.
Ibn al Arif
"Al-lah is not visible when we are seeing with the eyes; only when all the formulas vanish."
Haunt
Am I not answering my cel phone? Am I not answering my e-mail? If I'm in my apartment, I don't have e-mail. Otherwise I may be at the computer lab, the library, or in class. My schedule for this quarter is:
Mon Tues
10:00A-1:00P None
1:30P-4:20P

Weds Thurs
10:00A-1:00P None
3:00P-5:20P

Fri Sat
8:00A-11:00A 1:00P-5:00P

Sun
None

Encyclopedia of Pain
I work in a computer lab in the basement of the science library. At our last staff meeting we picked up printer paper from behind the circulation desk. Someone noticed a book called
The Encyclopedia of Pain
. Someone else said, "Imagine if we pulled up the checkout record and every name was Chuck Norris."
Listmanias
I've made a few Listmania lists on Amazon. One is on
Buddhist books
(148 views... neat!), and the other is on
heartbreak albums
(4 views... oh well).
Random Picture
The Pacific off San Onofre last August.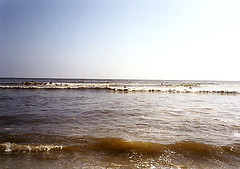 Regular Reading
Cute Overload
,
Dinosaur Comics
,
Married to the Sea
,
Natalie Dee
,
Oh No They Didn't
Alien Film Critic
,
London Review of Books
,
Metachat
,
Metafilter
,
Salon
,
SGVLUG List
,
Slashdot
Getting Read Slowly
The Eyre Affair (thanks Nina!)
The Story of English
The Concubine's Tattoo
Done!
The Edible Woman
London's Perfect Scoundrel
The Dream of the Red Chambers Volume One
The Chan's Great Continent
Wobegon Boy
Done!
Guns, Germs and Steel
This page was last modified on June 4, 2006. Thanks to
Squidfingers
for the background.